Summary: Virtual Reality (VR) is revolutionizing corporate training. Virtual Reality training courses provide personalized, hands-on training and prepare the staff for the moment of need. This article will focus on the retail sector to understand the scope of Virtual Reality in corporate training.
How To Use Virtual Reality For Training In Retail
A team conversation at a retail shop during the holiday season.
John: A customer at the counter is highly upset about the service. Who can manage the situation?
Jim: John, I have never done it before.
Jenny: I will do it.
John: Jenny, have you got any experience with these kinds of issues?
Jenny: Yes, a virtual one. Last week, I handled this kind of situation in my Virtual Reality training course. Now I am confident because I've already done it.
As per 2020 research by Statista, 70% of Learning and Development (L&D) departments in North America use Virtual Reality in eLearning [1]. Virtual Reality training gives experience to the employees. It virtually prepares the team to handle situations they have never faced before.
"The great thing about VR is its ability to make learning experiential." – Andy Trainor
Let us now see how Virtual Reality in eLearning is creating an impact in the retail industry.
Virtual Reality eLearning In The Retail Industry
Virtual Reality training courses can be created for both hard and soft skills for retail frontliners.
Onboarding And Orientation
Retail recruits generally need to hit the ground running. Every retail brand has a culture associated with it. It becomes important to imbibe the company's core values and ethics quickly to be able to serve the customers as brand ambassadors of that culture. VR training is adept at it. Here is an example.
Sprouts Farmers Market created Virtual Reality training courses for teaching their core values such as "Respect and Serve One Another." Later, a test revealed that 48% of employees who had used VR could recall all concepts perfectly compared to 3% who learned through traditional methods. The test was conducted on 300 employees.
Virtual Reality training courses build the organization's capacity to skill and upskill. It not only helps to retain their workforce but also to unveil the hidden talent in the team. It can impact the way hiring is done across the retail marts. Virtual Reality in eLearning gives greater ambit to hire people for qualities beyond mere skillset and experience. It lets the company see every candidate as a prospect with the potential to turn into an asset.
Customer Service Skills
Virtual Reality eLearning offers an immersive way of learning skills that equip your staff to serve the customer with patience and care in varied scenarios. With VR in retail training, the learners feel that they are a part of the simulation and are being directly guided by a coach.
We created a customer interaction course for a company that provided an album of scenarios that one can learn and revisit at the moment of the need.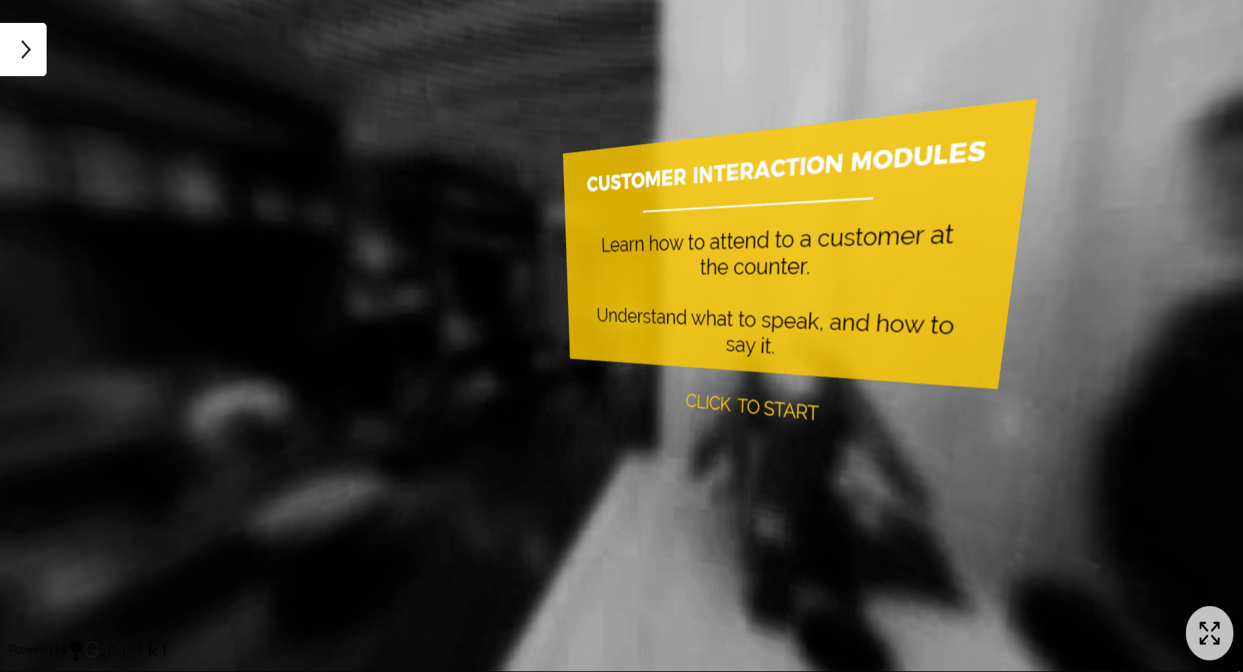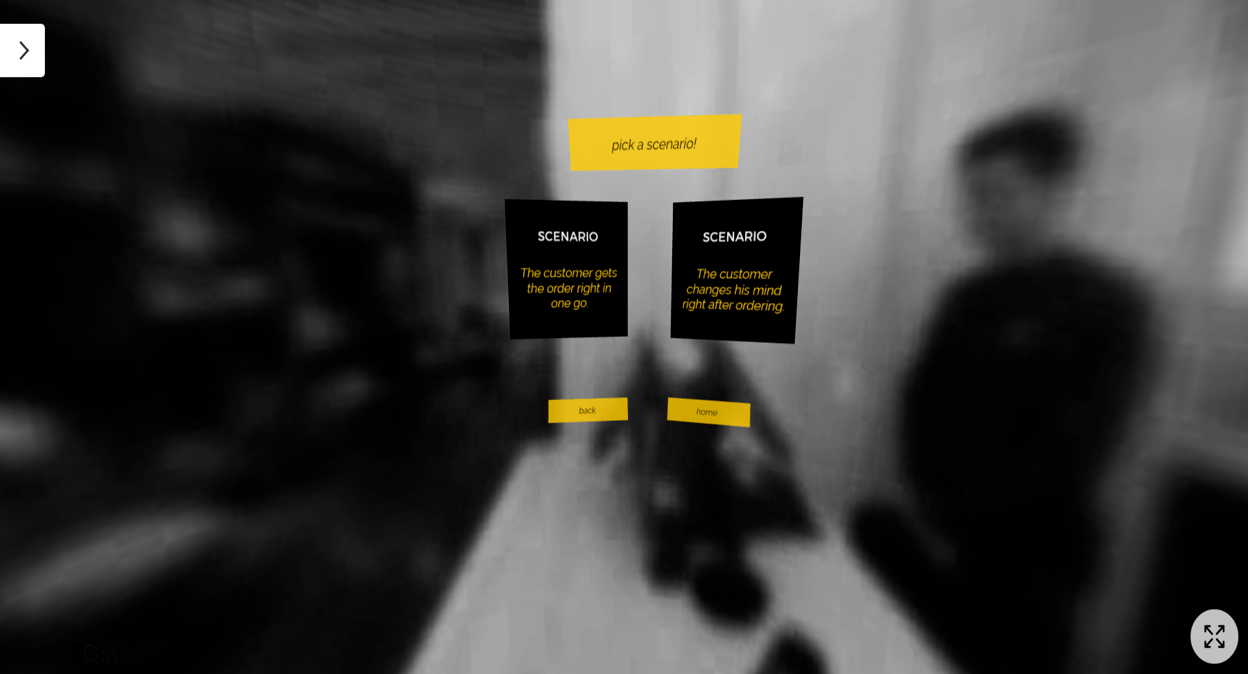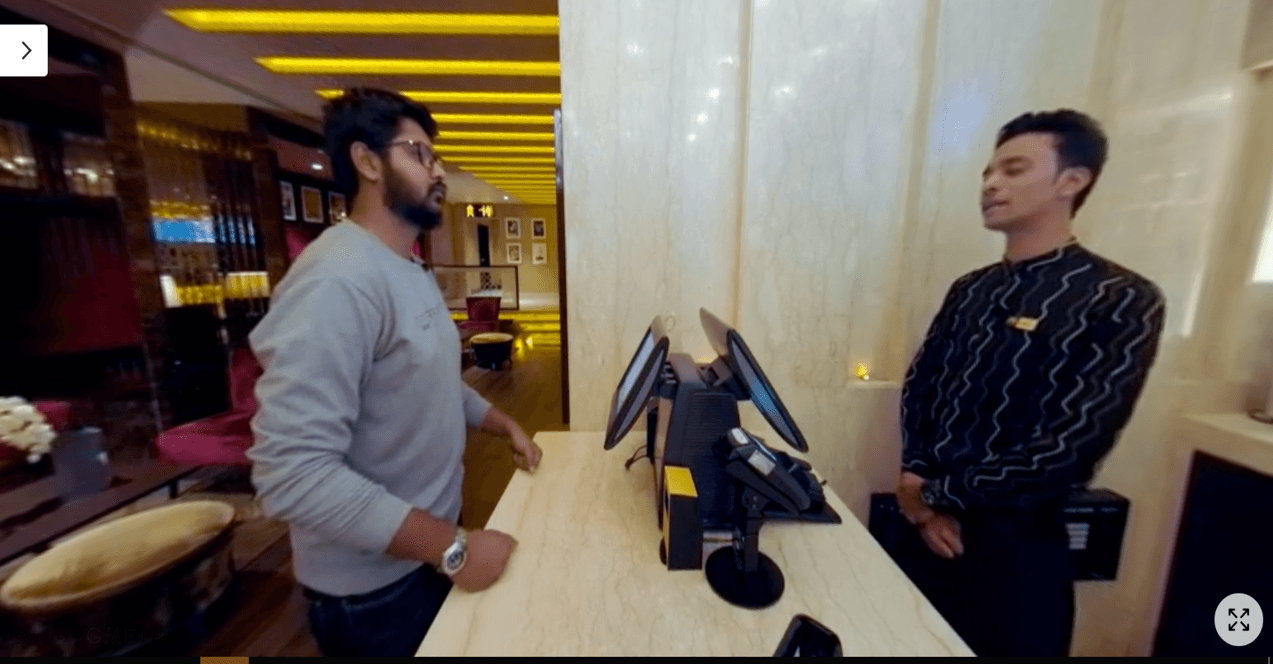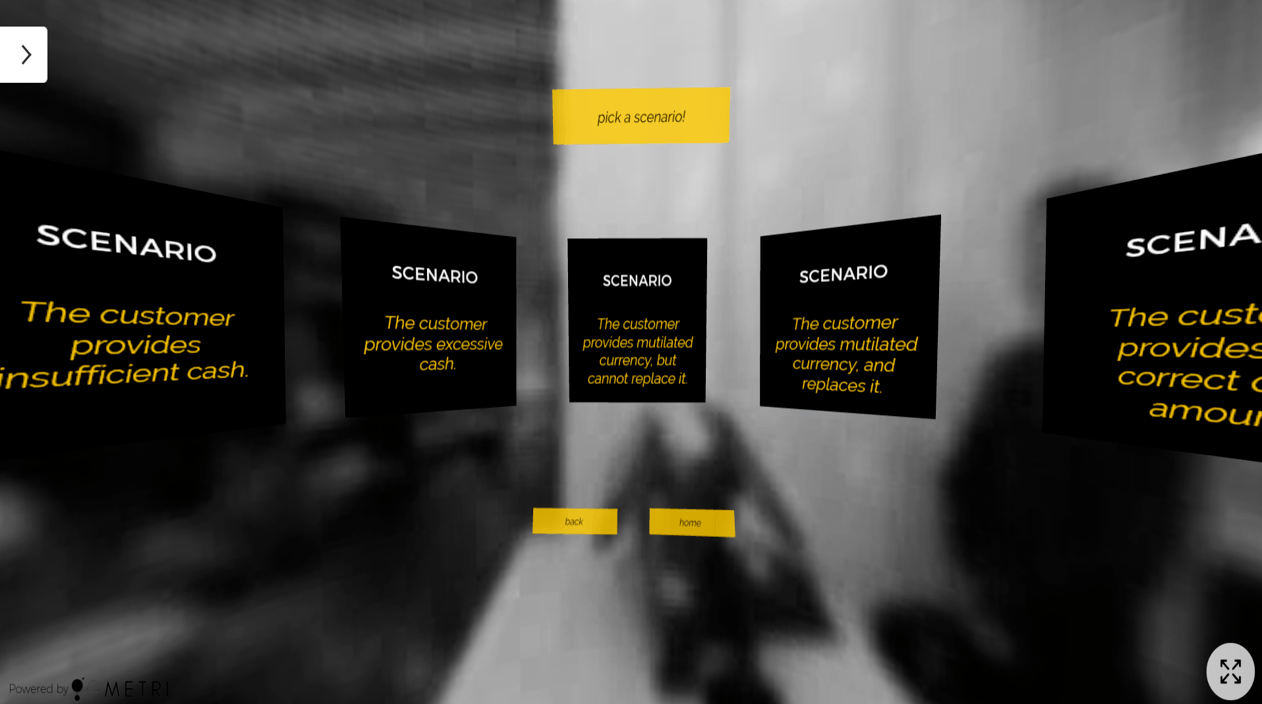 Handling Tough Conversations
If inexperienced staff suddenly have to deal with difficult situations and conversations with the customer, it might put them on the back foot. Virtual Reality eLearning creates a simulation where the employee is put into the situation to learn the appropriate responses. It becomes easy for them to ease out their ego in a virtual scenario and manage their emotions and behavior. At the same time, they learn to respond appropriately to different situations. Like Jenny (the scenario at the beginning of the article), they are mentally and emotionally prepared to hit the retail floor or the counter with confidence.
Virtual Reality in eLearning gives experience.
Workforce Safety
Great companies make workforce safety a priority. Virtual Reality training courses teach the staff how to respond to emergencies like fire and smoke instances, robbery, shootings, and so on. Virtual Reality in eLearning walks the learner through actual scenarios without fearing the real-life risks.
Virtual Reality in eLearning is a safe place to learn soft skills and de-escalation competence.
Floor Operations
Virtual Reality training courses can be used for a wide range of skills pertaining to product placement or replenishment on the shelves, processes from order to packaging, customer service in restaurants or hotels, seating arrangements, booking schedules, etc. Simulations for products being placed at the desired position or seating arrangements help reinforce the knowledge quickly and in real time.
Virtual Reality training courses can be taken during the work schedule.
New Technology And Equipment
Virtual Reality eLearning is not limited to soft skills. Training can be imparted for new technology and equipment. VR training does it faster and at a wider scale, from packaging to using new software at the counter. VR in retail learning is as real as a coach explaining the content. Yet, it saves the traveling cost of trainers traveling all over the country or world for wide-scale training at stores.
Virtual Reality makes retail training at a larger scale a reality, at a fraction of the cost.
Conclusion
The immersive virtual simulation experience allows the staff to step into the scenario and learn how to act when faced with a similar scenario on the ground. VR in retail training helps prepare employees for the holidays and rush hours, upset customers, etc.
Trusting your corporate training goals to a reliable partner is no more a waiting game. Leverage the services of the top custom content company and Brandon Hall Smartchoice Preferred Solution Provider two years in a row.
If you wish to know how our services and solutions can give an edge to your corporate training, write to us directly at suresh@tesseractlearning.com or contact us.