Summary: Language has the power to promote workplace diversity, equity, and inclusion. DEI is becoming more intrinsic to the corporate world. This article will explore the use of language in corporate communication and training programs to encourage DEI in the workplace.
How To Encourage DEI Through eLearning
"Language is power, life and the instrument of culture, the instrument of domination and liberation," said Angela Carter, English novelist, short story writer, poet, and journalist.
Riding on the cocktails of technology, globalization has made the world come closer. In this incredibly shrinking world, people have come together to socialize and work in groups of varying diameters. The workplaces have become a melting pot of people with different cultures, races, sexual orientations, skillsets, ages, education, socioeconomic status, and belief systems.
Acceptance of this diversity can create a kaleidoscope of perspectives, skills, and experience to make a company agile and successful. However, the non-acceptance of diversity can become a hurdle to a company's growth and productivity.
Language is vital for diversity, equity, and inclusion. It can help or impede the efforts toward establishing DEI.
As per the 2020 Instride study, 92% of business leaders agree that a strategic workforce education program should help an organization achieve its diversity and inclusion goals. This survey involved more than 500 U.S. business decision-makers.
Let us explore the use of terminologies in eLearning programs and other communication which are more appropriate for reducing bias and mistrust in the workplace among diverse employees.
How To Refer To A Person With A Disability
"Person with a disability" is more appropriate usage than "handicapped," "able-bodied," "physically challenged," and "differently-abled."
People with disabilities feel that they are disabled by the various barriers that exist in society, such as physical, social, communicational, political, etc.
For example, a person using a wheelchair faces disability by the steps and not because they cannot walk. A deaf person is disabled by the lack of instructions or captions in films and public places. The problem lies in society and not in the individual.
Words like autistic, epileptic, dyslexic, etc. relate to the whole person with the disability. A more humane way of using language would be "people with disability," "people with autism," "a person with low vision," and so on.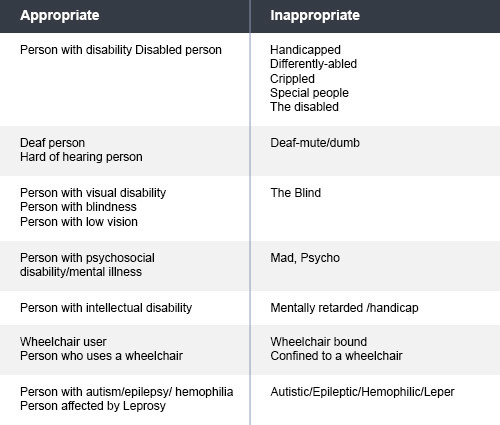 By denying the term "disability" or including the term "differently-abled," we remove disability from society's responsibility. But the aim is to have an inclusive organization and society.
Some More Dos And Don'ts
Never use the article "the" with any disability to describe people with that disability.
Don't: The deaf cannot hear the siren.
Do: People who are deaf cannot hear the siren.
Never use the word "normal" in contrast to people with disabilities. Instead, "non-disabled" can be used.
Don't: Tom passed the exam just like the normal students.
Do: Tom passed the exam.
Do not use terms such as "victim" or "sufferer"
Don't: suffers from asthma/HIV
Do: person has asthma/HIV
Use Gender-Responsive Language
As per the United Nations Development Programme (UNDP), "gender responsiveness refers to outcomes that reflect an understanding of gender roles and inequalities and which make an effort to encourage equal participation and equal and fair distribution of benefits. Gender responsiveness is accomplished through gender analysis and gender inclusiveness."
Here are some dos and don'ts:
Do not use gendered generic terms. For example, humankind instead of mankind.
Professions and job titles should be gender-inclusive. For example, chairperson instead of chairman or chairwoman.
Use singular "they" instead of masculine pronouns to express neutrality. For example, "the security will ask you to show them your ID" instead of "show him your ID."
Here is a table highlighting the language that is sensitive to gender bias.
In terms of visual language, ensure fair visibility for people with different sexual orientations. Fair visibility does not endorse gender stereotypes, it presents a diversity of roles.
Portrayal Of A Person From Any Minority Segment
While writing the scenarios for eLearning courses, do not make any section feel victimized, vulnerable, or powerless. Even if they are struggling, focus on their strength and efforts.
Focus on facts rather than passing judgments. Quotes and anecdotes can be used to personalize the story.
In terms of visual content, portray characters in dignified ways.
Conclusion
Every organization will have a different range of diversity. As companies become more heterogenous, it becomes imperative to identify the use of inclusive language in their specific locale. In this article, we have given a few globally recognized inclusive terms and usage, but the list could vary depending on national and political boundaries. We use inclusive language in all our eLearning courses.
If you wish to know how our services and solutions can give an edge to your corporate training, write to us directly at suresh@tesseractlearning.com or contact us.