Summary: Mobile learning allows learners to access training on their preferred mobile devices like smartphones and tablets. Mobile learning can be implemented as an effective training solution in various training scenarios. This article will share three training scenarios where mobile learning fits best.
Examples of Mobile Learning in Training Scenarios
Examples Of Ideal Mobile Training Scenarios
There are many benefits of using mobile devices in employee training. In mobile learning, content is delivered in small and easily digestible bits of information, which is easy to grasp and faster to recall at the moment of need. Mobile learning is a successful training platform that engages the learner through interesting interactivities, scenarios, games, and videos. Mobile learning solutions enable your employees to effectively increase their knowledge, skills, and competencies.
Mobile learning training courses can be developed to cover the important concepts, essential topics, key learning points, and real-life scenarios for easy recall and to help the employees at the moment of need by providing them with just-in-time information.
Now, I will present three training scenarios where mobile learning fits well, with examples.
Scenario 1: Provide Product Training Using Mobile Learning
In today's competitive business environment, it is essential for employees, especially in sales, retail, and marketing, to have up-to-date information on their products and services. In such a situation, you can use mobile learning to provide product training to your employees to have the latest and targeted information at their fingertips.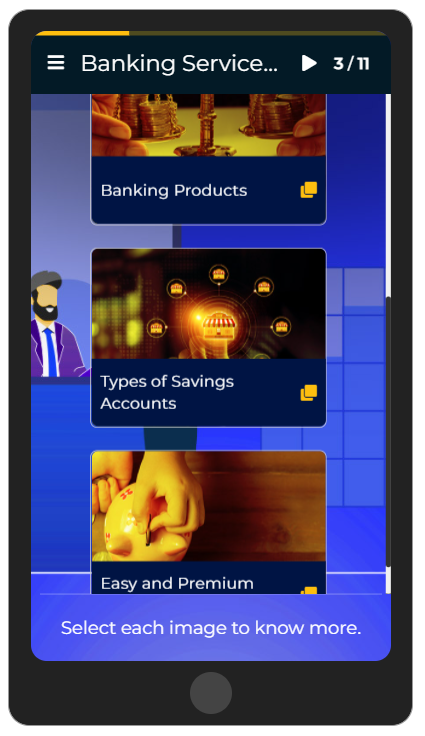 This is a mobile learning training module on banking services. It is designed to provide product training to bank employees on various banking products, types of savings accounts, benefits of certain accounts like salary account, premium account, etc. It provides up-to-date information on these banking products. Customer sales executives and sales teams can access the information on their mobile devices and successfully handle customer queries pertaining to the same.
Scenario 2: Offer Skill Development Training Using Mobile Learning
Skill development is the process of learning new skills to improve productivity at work. It helps your employees perform better in their current job role. It also helps an employee shift to a new job role or adapt to specific changes in the current job roles. It helps to build efficient teams in the organization. Mobile learning is a training strategy that delivers learning resources to your employees directly on their mobile devices. Mobile learning modules offer bite-sized learning to your employees on various skills. Each module can be designed to cover a specific skill.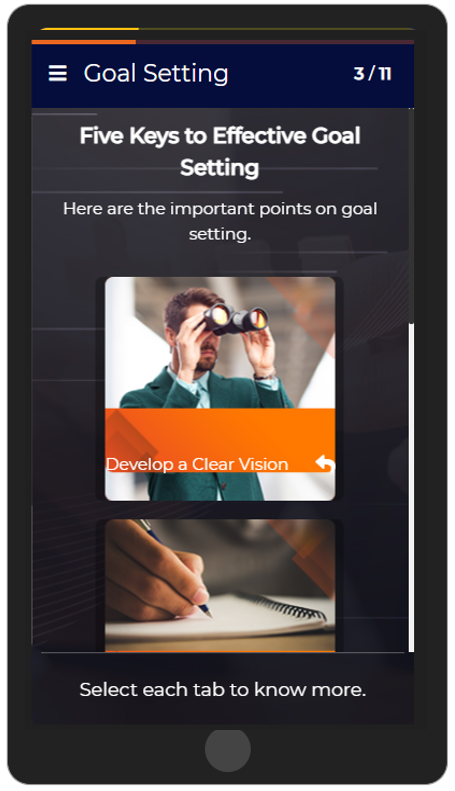 This is a mobile learning module on goal setting offered as part of behavioral skills training. This course was created to deliver a fully responsive solution on multiple devices like smartphones and tablets. We have designed this course with compelling scenarios, interesting activities, and quiz questions. The seamless learning experience on their preferred device helped with better retention of knowledge and better course completion rates.
Scenario 3: Offer Personalized Training Using Mobile Learning
Another major advantage of mobile learning is that you can provide personalized training to your employees. Many organizations have started using learning experience platforms (LXPs) to provide personalized training to help their employees go to the next level. You can utilize LXPs to provide more experiential training to your employees. The modern LXPs provide improved real-time tracking and reporting of training pertaining to your employees. The reports help identify the skill gaps in employees and enable you to provide more relevant training to them. You can provide targeted training for specific employees to build competencies and skills required for their existing as well as new job roles.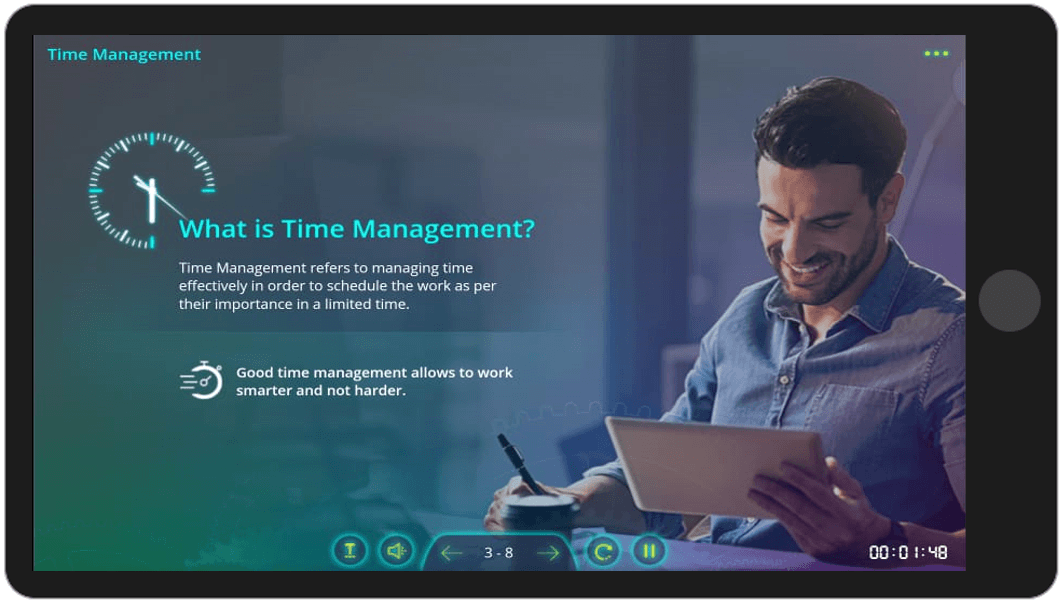 For example, on analyzing the individual task records, few employees have poor time management skills. You can provide training to these employees on improving their time management skills using mobile learning. The example shown here is a part of the time management skill-training course. This module explains how to prioritize the important tasks over the unimportant or not so important ones, with colorful infographics and examples. After the training, employees understand the importance of prioritizing their tasks. They should complete the most critical tasks first and the other tasks in the next priority. They should also focus on the most vital and urgent tasks and restrict their time on non-essential tasks and activities.
Conclusion
Mobile learning has been proved as a good fit in various training scenarios. You can provide mobile learning as a standalone short-duration course that learners can take on their mobile device, anytime and anywhere.
At Tesseract Learning, our learning and visual architects are constantly innovating and reinventing their approaches to design, develop, and deliver effective L&D programs. Our KREDO Learning Platform helps create and deliver effective learning experiences. We can deliver innovative mobile learning solutions based on your business needs with our learning design expertise. To know more about our services and how we can help you, contact us or write to me at suresh@tesseractlearning.com.